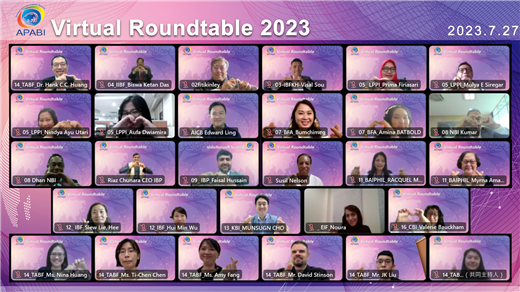 Gratitude and Growth: Highlights from APABI Virtual Roundtable 2023
We are delighted to announce the resounding success of the first-ever APABI Virtual Roundtable held on June 27, 2023. Co-hosted by the esteemed India Institute of Banking and Finance (IIBF) and APABI Secretariat at the Taiwan Academy of Banking and Finance (TABF), this groundbreaking event garnered overwhelming enthusiasm from our prestigious member institutes.
The virtual roundtable witnessed an extraordinary gathering of more than 30 participants representing 15 member institutes including FIIT (Bhutan), IBFKH (Cambodia), IIBF (India), LPPI (Indonesia), AICB (Malaysia), BFA (Mongolia), NBI (Nepal), IBP (Pakistan), IBBM (PNG), BAIPHIL (Philippines), IBF (Singapore), KBI (Korea), TABF (Taiwan), EIF (UAE) and CBI (UK), among others. This exceptional event served as a melting pot of diverse perspectives and expertise, fostering a dynamic exchange of ideas that will undoubtedly shape the future of the finance industry.
Distinguished presentations from across the globe adorned the agenda, with Cambodia's IBF advocating for instructors as knowledge salespeople, Korea's KBI showcasing their transformative training progress and AML curricula, and the UK's CBI elucidating their revolutionary work on Principles for Responsible Banking. Meanwhile, TABF unveiled their trailblazing digital learning initiatives, and IIBF, the host of the forthcoming 2024 Meeting & Conference, provided essential insights into their revered training structure and history.
Our passionate APABI Secretariat shared the latest updates, including a remarkable website revamp and thrilling news on membership developments. The pivotal decision to maintain our current organizational structure was reached after thoughtful deliberation on a proposed change, with several innovative ideas for enhancement also presented and eagerly anticipated.
Our heartfelt gratitude extends to IIBF, our gracious co-host, for their unwavering support and collaboration in making this event a resounding triumph. Together, we have strengthened the spirit of camaraderie and knowledge-sharing among our esteemed member institutions, fueling our collective commitment to elevating banking and finance to unprecedented heights.
As we bask in the triumph of this productive forum, we eagerly anticipate the 2024 APABI Meeting and Conference in the vibrant city of Mumbai, where we shall gather once again to build upon this momentum for an even brighter future. The date for the event is yet to be finalized, pending invaluable member feedback, but will likely fall in September or November. Rest assured, further details will be unveiled as the grand occasion draws nearer.
In closing, we extend our heartfelt appreciation to all who contributed to this triumphant event. Your dedication and active participation have left an indelible mark on APABI's journey towards excellence. Join us in anticipation of our upcoming in-person executive meeting, where we shall continue our collective efforts in empowering the future of finance and shaping a world-class banking and financial landscape. Together, we are poised to redefine the boundaries of success and create lasting impacts for generations to come.